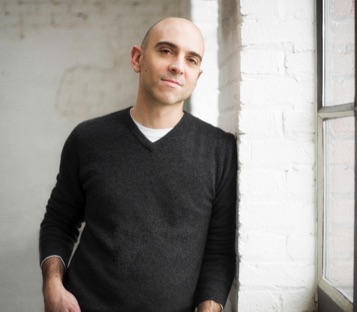 INTERVIEWS
• With Don Marsh on St. Louis Public Radio.
• With T Hetzel on Living Writers, WCBN, (Sept. 28, 2016).
• "Angels of Detroit author captures Motor City's complexity": An Interview with Ellen Piligian at the Detroit Free Press.
• "Detroit-set novel finds hope among the hopeless": A Coversation with Greg Tasker at the Detroit News.
• "Validation is the Curse": An interview with Scott Hutchins at Fiction Writers Review.
• On propulsion, polyphony, and the fifteen years spent working on Angels of Detroit, with Mairead Small Stead at The Ribbon, for Literati Bookstore.
• With Kelsey Ronan for Belt Magazine, on the challenges of writing about Detroit.
• An interview with Megan Faust for Writers in the Library.
• On WUOT, with All Things Considered with host Brandon Hollingsworth: on Detroit, political violence, presidential politics, and the power of fiction.
• A Q&A with Matthew Everett at the Knoxville Mercury.
• Interview with Amy Brady at the Indianola Review.
• "Competing Interests: An Interview with Christopher Hebert," by Michael Shilling at Fiction Writers Review.
• Interview with T Hetzel on the Living Writers show on WCBN (March 21, 2012).
• "The Weight of Blood and History," with Madison Smartt Bell for Chapter 16, about the inspiration and influence behind The Boiling Season.
• Interview with Christian Feuerstein at the Independent.
READ MORE
My Book Notes playlist for Angels of Detroit at Largehearted Boy. Music from Detroit, all of it connected to books I published as an editor in MI while writing the novel.
"Our City," an excerpt of Angels of Detroit at LitHub.
Space cocktails concocted for the Graywolf Test Kitchen. Best enjoyed at low gravities.
A short piece at Narrative about an accidental family outing along the infamous Tail of the Dragon.
"The Bridge," a short story serialized at Five Chapters.
"Helping Haiti," an article I wrote about a trip with a charitable group developing aid projects in rural Haiti.
My essay on political aversion and how it influenced the writing of The Boiling Season, at The Millions.
A discussion about art and ideology with artist and Ayn Rand book illustrator Nick Gaetano at Interview Magazine.
CHRISTOPHER HEBERT is the author of the novels Angels of Detroit (Bloomsbury, 2016) and The Boiling Season (HarperCollins, 2012), winner of the 2013 Friends of American Writers award. He is also co-editor of Stories of Nation: Fictions, Politics, and the American Experience (UT Press, 2017). His short fiction and nonfiction have appeared in such publications as FiveChapters, Cimarron Review, Narrative, Interview, and the Millions. He is a graduate of the University of Michigan and is a former senior editor for the University of Michigan Press. Currently he lives in Knoxville, TN, where he is Assistant Professor of English at the University of Tennessee